Jewellery Care
It is recommended that you store each piece of jewellery separately in a soft lined box or pouch so your pieces don't rub against each other. Avoid wearing your jewellery swimming as chlorine damages all metals. Also remember to remove your jewellery before gardening or household cleaning to prevent wear and chemical damage.  
Repairs
We may be able to replate your gold plated jewellery if it has suffered wear and tear. Please contact us for a quote.
Silver Pieces
Clean regularly with silver polish (cream silver polish and a soft cloth is best) if you wish to maintain a bright shiny finish. Dry thoroughly after exposure to water to avoid tarnish.
Gold Plated Pieces
Our gold-plated pieces are solid sterling silver covered with a good layer of 22-karat gold. This layer will eventually wear over time so we encourage you to please be careful and take care of your gold-plated jewellery to ensure the plating lasts a long time. Please read our care tips below: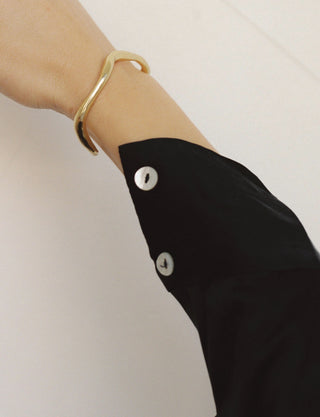 Gold-plated jewellery care tips:
1           Avoid scratching or rubbing. We advise that you store each gold plated jewellery piece away from other pieces.
2           Clean regularly in a bowl of mild dishwashing liquid diluted in warm water gently, rinse and pat dry thoroughly. Gently buff with a microfiber cloth.
3           Remove your gold plated jewellery before swimming, showering or excercising.
4           Avoid exposure to perfume, hairspray and body lotion. Put these on first and let them sink in to your skin before putting your jewellery on.